Suction and rinsing vehicles elephant multi
The most important advantages of our FFG telescopic boom: - Flexible FFG telescopic boom with parallel suction and rinsing hose guiding with the possibility of lowering and lifting - Additional drives for the high pressure and suction hose ensure efficient coiling and Best Replica Watches unwinding of working hoses
Elephant multi

Sewer cleaning cars with patented FFG boom

The elephant multi series are cars with a suction and flushing installation that meet the highest technical standards.
They are distinguished by high work efficiency, maximum durability and reliability. It is hardly surprising.
After all, they are the result of over 25 years of FFG experience. The range includes vehicles with a weight
from 3.5 t to 40 t. Thanks to the use of proven, standard components, the vehicles of this series are
particularly economical and affordable. Thanks to the flexible possibilities of technical equipment
we are able to offer solutions for special applications.
Below are some of the key benefits of our FFG telescopic boom:
Elastyczny teleskopowy wysięgnik FFG z równoległym prowadzeniem węża ssącego i węża płuczącego z możliwością opuszczania i podnoszenia
Dodatkowe napędy do węża wysokociśnieniowego i ssącego zapewniają sprawne zwijanie i rozwijanie węży roboczych
Wysięgnik FFG może służyć również do podnoszenia pokryw studzienek kanalizacyjnych (do 500 kg) oraz zabezpieczania/ewakuacji osób
Dzięki usytuowaniu kołowrotu wysokociśnieniowego na szczycie cysterny z tyłu samochodu nie ma dużych elementów mogących przeszkadzać w pracy. W ten sposób samochód jest krótszy od tradycyjnych pojazdów do czyszczenia kanałów
Thanks to the favorable location of the turnstile, an optimal weight distribution on the chassis (longer lifetime of the chassis) has been achieved
Thanks to the radio and cable remote control, the operator is not exposed to direct gas & oacute; in escaping from the well, as is the case with permanently installed service stations
The suction hose can be lowered to a depth of up to 15 meters & oacute; from the edge of the duct and the reel t can contain 200 or 260 meters in a hose with a diameter of DN 25
Thanks to the large range of the FFG boom there is no need
______________________________________________________________________________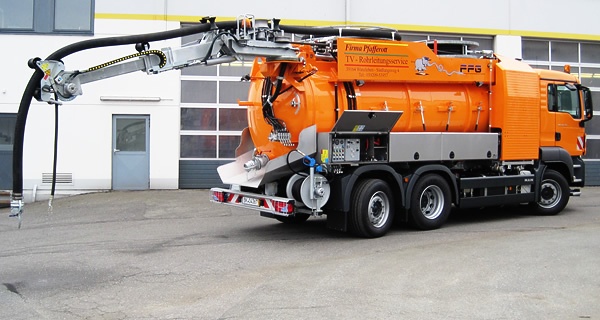 Back
SERVICE
BASE
Repairs and renovations have always been an important part of our business. The service life, functionality and safety of vehicles is closely related to the quality of services rendered. W Pojazdach Komunalnych Tymborowscy Sp. z o.o. in Kielce, you will receive services: on time, reliable, professional and most importantly low cost.
read more
VISIT, CALL, WRITE
CONTACT
Pojazdy Komunalne Tymborowscy Sp. z o.o.
ul. Inwestycyjna 21, 26-052 Nowiny k/ Kielc
+48 41 346 12 93
Fax: +48 41 346 12 17
m.tymborowski@pojazdykomunalne.pl
tymborowski@pojazdykomunalne.pl